Merits of the material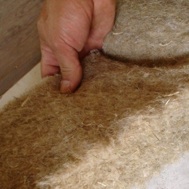 Insulation from hemp and natural fibres in general, achieve excellent thermal insulating, acoustic and fire-resisting parameters, thereby they adequately compete with common, accessible conventional insulations. On the other hand, they have unique natural properties, which completely distinguish them from other competitive products and places them on a much higher level.
Why hemp insulation?
hemp is the oldest cultivated plant, that was used by our ancestors for ages
thermal-insulating parameters of the hemp insulation are same as common used insulations (metered value of thermal conductivity l = 0,040 W/(m.K))
heat capacity of the hemp insulation is double compared with mineral insulations (c = 1600 J/(K.kg))
hemp fibre has an unique ability: it can absorb humidity and evolves it again – this is the biggest advantage of the hemp insulation compared to other materials
thanks to high permeability and moisture conductibility hemp insulation keeps a health microclimate of your house without bacteria, mould and other microbes, which induce allergies and many others health problems
hemp insulation is a perfect material for open diffusion constructions thanks to its high absorbing capacity for heath and humidity
high diffusion transmission and ability of moisture redistribution are reasons why hemp insulation keeps its form even in very moist conditions, doesn´t warp and mainly doesn´t lose its thermo-insulating properties (even by volume humidity as much as 20%)
manipulation with hemp is smooth, without any danger of skin irritation or respiratory-system damage
it offers wide application in roof trusses, roofs, floors, internal and external walls
the production process is not demanding from the energy point of view and it does not load the environment.
natural materials are experiencing a renaissance